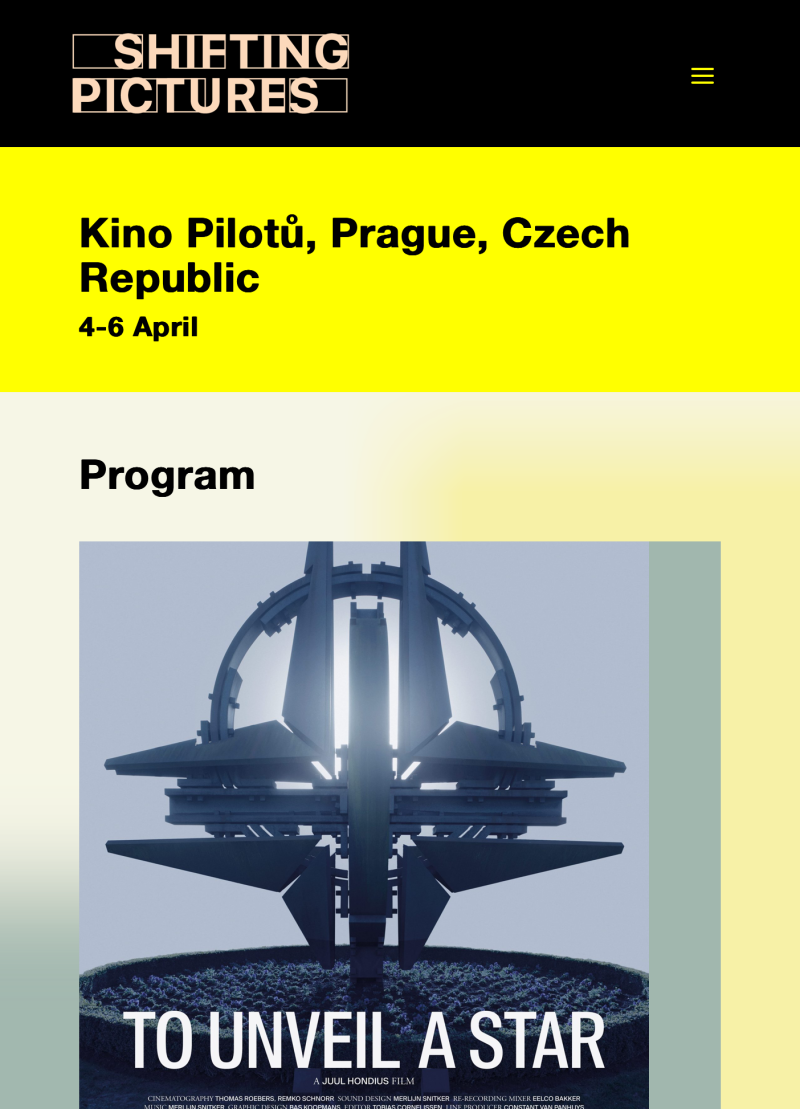 4 European cities, 4 directors, 29 filmscreenings
The Shifting Pictures film festival showcases European cinema that addresses contemporary societal issues. Four directors and their films will visit Prague, Belgrade, Bucharest, and Amsterdam. The festival aims to reflect on the inner threats facing Europe, such as the rise of right-wing politics, populism, and the challenges surrounding identity.
https://www.shiftingpictures.eu/​prague/
Shifting Pictures is an initiative by De Balie
The film revolves around the large star-shaped steel sculpture that has stood in front of NATO headquarters in Brussels since 1971: an iconic monument observed from a documentary perspective that opens up a critical reflection on the media power of images and how these visual strategies determine our lives.
Previously in the media> Kaleidoscopic portrait of a NATO icon (text by Thomas van Huut in NRC 25.11.2021, original written in Dutch)
' "It depends on who you mean by the enemy … if you mean the Russians, I haven't seen them here yet." A Dutch soldier stationed in Lithuania by NATO to "show that we are here" is just one of the many characters that artist/photographer Juul Hondius portrays in his fiction documentary To Unveil a Star (2021), a 54-minute search for the meaning of the giant rusty steel sculpture at NATO headquarters in Brussels. Hondius sketches a kaleidoscopic portrait of the image that has reached millions of living rooms via televisions for fifty years. He uses, among other things, archive footage of NATO meetings and speeches and personal family films of demonstrations against nuclear weapons. He also speaks to NATO employees and the artist who did not receive recognition. In between, Hondius mounts images of cockchafers crawling up from the ground around the image. Is the statue "the glorification of Western domination," "a beacon of safety," or a "symbol of a willingness to destroy others"? Probably all at once.
Nothing in the film is what it seems. Some of the conversations have been staged, performed by actors. Other parts are shot with real people. The film meanders between fact and fiction, between the personal and geopolitical, between bombastic and subdued. The game with fact and fiction confuses, you don't know exactly what you are looking at, but at the same time Hondius gives you the idea that he is showing you a true portrait of the image. "We change when the world changes," says the NATO general. The steel image remains the same, but is also different each time. The nature images of May beetles (in some areas a plague that kills entire forests) are masterful: they are, among other things, a metaphor for the silently watching Earth, another layer of time, the 'geo-' in 'geopolitics'. At one point, a cockchafer opens its armor to take off from the cane of a soldier in uniform. Phenomenal.'